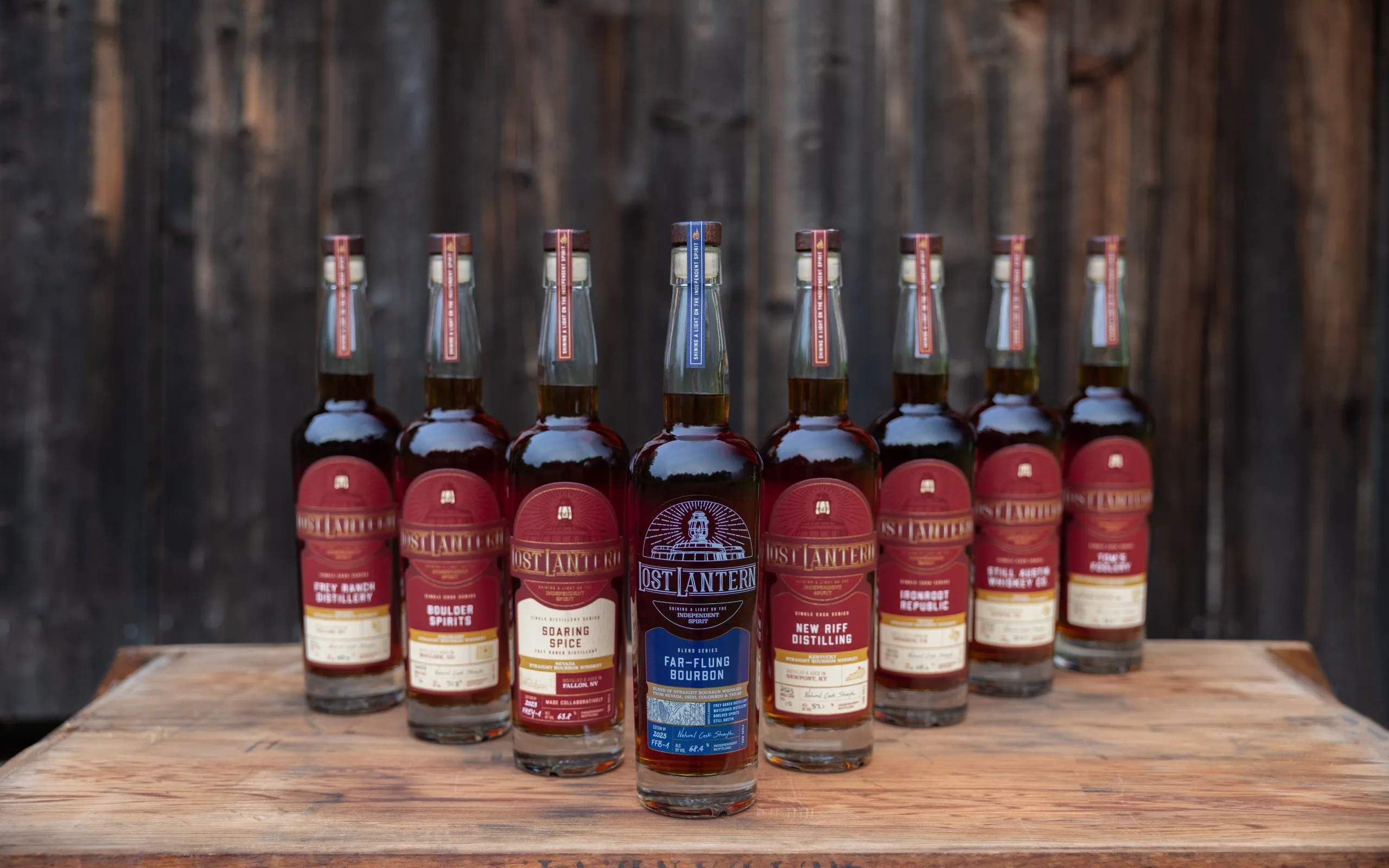 The bourbon world has evolved dramatically in the 21st century. Once in steep decline, bourbon has been reborn and is more popular than it has been in half a century. That has led to the proliferation of bourbon producers across the country, making America's signature spirit in places where it was never made before. Great bourbon now comes from across the United States, from Nevada's arid deserts to Texas' sprawling plains, from the snowbelt of Ohio, to the rugged mountains of Colorado, and, of course, from its historic heartland of Kentucky.
We want to capture this dynamic moment in the evolution of the bourbon world, and as an independent bottler, we are uniquely positioned to showcase the increasing depth and breadth of America's signature spirit. To that end, the Lost Lantern Summer 2023 Collection is truly something unique and special, something we've never done before. Our largest collection ever is entirely devoted to just one type of whiskey: Bourbon, America's iconic spirit.
Welcome to the Summer of Bourbon.
The Lost Lantern Summer of Bourbon Collection includes eight whiskies ranging across all three of our product lines: the Blend Series (blends of whiskies from multiple distilleries), the Single Distillery Series (blends of multiple casks from a single distillery that showcase a unique side of that distillery) and the Single Cask Series (whiskies from a single barrel from a single distillery).
The Lost Lantern Summer of Bourbon Collection will be available for sale online at LostLanternWhiskey.com and Seelbachs.com starting July 26th. Select releases will be available in California and New York.
Lost Lantern Summer of Bourbon Lineup
The Lost Lantern Summer of Bourbon Collection includes eight whiskies: one new entry in our Blend Series, one new entry in our Single Distillery Series, and six single casks, three from returning partners and three from new ones. Short details on each release follow. For more, check out our virtual road trip that ranges across all of the distilleries and releases. The virtual road trip is linked below each release.
Far-Flung Bourbon
3 years old | 136.8 proof | 591 bottles
Great bourbon comes from all across the United States. Different regions with different climates produce whiskies that have very different flavors and styles. These can be incredible on their own. But they also can be just as wonderful, in an entirely different way, when they come together.
Far-Flung Bourbon is a blend of straight bourbons from four states, and four distilleries, that have never been blended before: Frey Ranch in Nevada, Watershed Distillery in Ohio, Boulder Spirits in Colorado, and Still Austin in Texas. All four are masters of their craft and climate, and this first-of-its-kind whiskey brings their flavors together into a big, rich, and powerful blend of straight bourbons. Big baking spice, rich oak, vanilla, caramel. Three year age statement; components range from 3-7 years old. Lost Lantern's first multi-distillery blend since 2020, and our first blend of straight bourbons. Fully transparent as always: all four distilleries are listed right on the front and back label.
Far-Flung Bourbon Product Page + Full Details
Far-Flung Bourbon Virtual Road Trip
Soaring Spice Frey Ranch Nevada Straight Bourbon
4 years old | 127.5 proof | 900 bottles
Located in a uniquely arable valley in the Lake Tahoe watershed in northern Nevada, Frey Ranch is a multi-generation family farm. The Frey family has roots in the area dating back to when Nevada was a territory. One of the only estate distilleries in the country, the Fallon, Nevada-based distillery grows all its grains, for all of its whiskies, onsite. This results in a whiskey that truly reflects the unique climate of northern Nevada.
The Lost Lantern Single Distillery Series, which first launched earlier this year, is a new way of exploring whiskey from a single distillery. Each release in the Single Distillery Series is a marriage of multiple casks all sourced from a single distillery. These whiskies allow us to deeply explore what makes a distillery unique and special, often by bringing together flavors in a new way and showing a new perspective on a distillery. Soaring Spice, our fourth release in the series, is the first bourbon Single Distillery Series release.
Frey Ranch is increasingly renowned for its rich and earthy style of straight bourbon whiskey. But the Single Distillery Series tries to shine a light on a different side of a distillery, beyond what they're already famous for. We want to show that great distilleries have both depth and range. So when we went to Frey Ranch in person in January 2023 to create this unique release, we created a marriage of four barrels that we specifically chose for their rich baking spice flavors. Although it's made from Frey Ranch's standard four-grain mashbill, the flavor profile of this release is quite distinct from their core release, showing just how much of an impact natural barrel variation and deliberate blending choices can make.
Soaring Spice Product Page + Full Details
Soaring Spice Virtual Road Trip
Frey Ranch Nevada Straight Bourbon Single Cask
5 years old | 137 proof | 211 bottles
Bottled at cask strength, this Lost Lantern Frey Ranch single cask is intended to be the perfect introduction to Frey Ranch's style, with a flavor profile similar to their flagship–while having the unique character and nuance of a single cask. If you haven't been able to get your hands on Frey Ranch before, or just can't get enough of it, this single cask is the place to start.
Onto the details: this single cask straight bourbon whiskey was aged for 5 years in a 53-gallon barrel. It was made from 67% corn, 12% malted barley, 11% rye, and 10% wheat, all grown at Frey Ranch. It has notes of graham cracker and cardamom on the nose, with dried cherry and molasses cookie flavors on the palate and a very long finish. It has hints of earthiness, which we think of as part of Frey Ranch's signature style. After all, this is bourbon straight from the whiskey farm!
Frey Ranch Single Cask Product Page + Full Details
Boulder Spirits Colorado Straight Bourbon Single Cask
6 years old | 142.6 proof [HAZMAT] | 137 bottles
Boulder Spirits, also known as Vapor Distillery, was founded by Scotsman Alastair Brogan, who has brought Scottish whisky making traditions to the high peaks of the Colorado Rockies. This dry, high-elevation environment makes for bold and unique spirits. Boulder Spirits is probably best known for its American single malt, made on a traditional Scottish Forsyths pot still–one of relatively few in the United States. And the distillery brings its single malt heritage to bourbon as well: Boulder's bourbon is made with a very unusual mashbill with a very high malt content, nearly as much malt as corn. This creates a bourbon with a structure and texture that shares a lot in common with single malt. While their single malts are very recognizably single malts, and their bourbon is very recognizably bourbon, we've found that their whiskies have great crossover appeal: a way for bourbon lovers to start exploring the malt world, and for malt lovers to explore a new style of bourbon.
Our Lost Lantern Boulder Bourbon single cask was aged for a full six years in a 53-gallon barrel in the high elevation of the Rockies. Its unusually high malt mashbill (51% corn, 44% malted barley, and 5% rye) adds great heft and a hearty texture. It has a very rich nose, with notes of dark chocolate and warm apple strudel. It is warm, spicy, and sweet on the palate, with a very long finish. This is an older and bolder follow-up to our first Boulder Spirits bourbon single cask, which scored 98 points in Wine Enthusiast–their top rated bourbon of 2022.
Boulder Single Cask Product Page + Full Details
Boulder Spirits Virtual Road Trip
Ironroot Republic Texas Straight Bourbon Single Cask
3 years old | 137.2 proof | 171 bottles
This is our third cask, and second bourbon, from Ironroot Republic, which has consistently been one of our most requested and sought-after partners. Ironroot Republic is a family-owned distillery on the North Texas plains, an hour north of Dallas and just a few miles south of the Oklahoma border. Their use of European distillation techniques and experiments with rare heirloom strains of corn push the boundaries of what straight bourbon can be. Beyond that, the Likarish family have quickly established themselves as one of the most important (and most welcoming and generous) voices in Texas whiskey.
One of the most awarded small distilleries in the country, Ironroot Republic was one of our very first partners. Our latest Ironroot Republic single cask was aged for 3 years in a 65-gallon barrel (note the unusually large cask size!). It was made from 65% yellow dent corn, 30% bloody butcher red corn, and 5% Floriani corn, a rare Italian heirloom red flint corn. It has warm oak spice and hints of pomegranate and cherry on the nose, with notes of marzipan, rich oak, sweet vanilla cream, and fresh cornbread on the palate.
Ironroot Republic Product Page + Full Details
Ironroot Republic Virtual Road Trip
Still Austin Texas Straight Bourbon Single Cask
4 years old | 103.8 proof | 218 bottles
Still Austin Whiskey Co. is committed to making grain-to-glass whiskies that reflect the Texas climate and celebrate the culture of its vibrant capital. It's rare to find an urban distillery on the scale of Still Austin, especially in a city the size of Austin. But Still Austin is a rather sizable distillery, complete with a beautiful tasting room and lots of outdoor space–fitting for Texas. The distillery works exclusively with Texas-grown grains, but it has perhaps become most familiar for its support of artists and musicians. This support is reflected in every one of Still Austin's labels, and even in the name of two of its flagship products: The Artist and The Musician. But, of course, it's their whiskey that attracted us to the distillery.
Our Still Austin single cask is a Texas high-rye bourbon. Aged for 4 years in a 53-gallon barrel, this was made from 70% corn, 25% rye, and 5% malted barley, all grown in Texas. It has notes of vanilla, dried orange, clove, and chocolate brownie on the nose. The sweet and spicy palate balances oak and baking spice flavors with notes of walnut cake and candied orange. A bold and vibrant Texas straight bourbon whiskey, and a great way of exploring how one of our favorite styles of bourbon–high-rye bourbons–changes when made with local grains in a hot climate.
This is our first release from Still Austin, making them the third Texas distillery we've worked with (and if you're keeping track, that makes Texas tied with California for the state where we've worked with the most distilleries).
Still Austin Product Page + Full Details
Still Austin Virtual Road Trip
Tom's Foolery 9-Year-Old Ohio Straight Bourbon Single Cask
9 years old | 113.8 proof | 166 bottles
Tom's Foolery in Chagrin Falls, Ohio is a small distillery that uses traditional, labor-intensive methods, including pot still distillation, to make whiskey the way it used to be made. Their whiskies embody the cold, snowy climate of Ohio's snowbelt. Owned and operated by Tom and Lianne Herbruck (and yes, Tom is the one whose foolery is described in the distillery's name), they are truly a family operation.
Tom's Foolery has nearly as much in common with the small farm distilleries scattered across Cognac and Normandy in France as it does with America's bourbon tradition. The distillery even makes brandy! The entire process at Tom's Foolery is deliberately hands-on and low-tech, every aspect of the process guided by experience and sensory evaluation rather than computers and spreadsheets. Their process is also connected to nature, and the distillery makes every effort to allow the regional climate–not far from the shores of Lake Erie, in an area with cold, snowy winters and temperate summers–to influence the whiskey as nature chooses.
Our first single cask from Tom's Foolery is a 9-year-old straight bourbon, the oldest bourbon we've ever released. Aged in a 53-gallon barrel, this bourbon has notes of peaches and cream and a fresh nuttiness on the nose. The palate has hints of fresh-baked bread, warm, fresh grain, vanilla, and deep oak. It has an extremely long, rich, and spicy finish. The cooler climate in Ohio allows for the long aging without overwhelming oak extraction, allowing for a very nuanced and complex whiskey. This bourbon has a mashbill of 52% yellow dent corn, 20% winter rye, and 28% six-row malted barley. This is Lost Lantern's first release from Tom's Foolery. The label for this actually calls it an 8-year-old, which had been the plan. But bottling got pushed back slightly, and it ended up turning nine years old just days before the bottling date! So it's actually a 9-year-old whiskey, despite the label.
Tom's Foolery Product Page + Full Details
Tom's Foolery Virtual Road Trip
New Riff Kentucky Straight Bourbon Single Cask
4 years old | 114 proof | 207 bottles
New Riff Distilling is, to us, probably the most exciting of the new distilleries that have opened up in Kentucky (and beyond!) in recent years. It doesn't have a centuries-old family connection to a bourbon legend. It doesn't need one. It was founded by true experts and true bourbon lovers who just wanted to make great bourbon, with no shortcuts and no compromises. And that is exactly what New Riff has done.
It was very important to us to have New Riff as part of our Lost Lantern Summer of Bourbon release. We knew we wanted a Kentucky bourbon in the mix: if we're saying great bourbon comes from all across the country, we had to include Kentucky. But we wanted it to be New Riff in particular. Their commitment to quality and precision is unequaled, and they can go toe-to-toe with distilleries many times their size… while also sharing many traits with our distillery partners from other states.
Our first-ever Kentucky straight bourbon is instantly recognizable as New Riff. Made from 65% corn, 30% rye, and 5% malted barley, this straight bourbon whiskey was aged for 4 years in a 53-gallon char 1 ISC Cooper's Reserve barrel (which is an unusually low char for New Riff, and for Kentucky bourbon in general). It has warm, rounded oak and an intriguing smoky spice on the nose, almost barbecue-like. The palate has notes of smoked maraschino cherries, vanilla and molasses, and lemon meringue pie, with a hint of mint on the finish.
This is Lost Lantern's first release from New Riff Distilling and our first release from Kentucky.
New Riff Product Page + Full Details
Lost Lantern Summer of Bourbon Launch Details
The Lost Lantern Summer of Bourbon Collection will launch starting Wednesday, July 26th. The full collection of all eight bourbons will be available on both LostLanternWhiskey.com and Seelbachs.com. Most of the releases will be available in California, and Soaring Spice and Far-Flung Bourbon will be available in New York State (both NYC and Upstate). Feel free to reach out to us for details or specifics on how to snag a specific release.
Let the Summer of Bourbon Begin!