Balcones Texas Single Malt Tequila Cask Aged
Pushing The Single Malt Boundaries
We hand-selected this cask from Balcones Distilling in Waco, TX. Balcones is a true pioneer. Their unique releases have proven both that Texas is a serious spirits region and that great whiskey can be made in entirely new ways.
You've never tried a single malt like this one. It spent a full 5 years in a used tequila cask that previously held Balcones Rumble, a spirit distilled from honey, sugar, and figs. This style-bending whiskey, born and raised in the Texas heat, marries clean and elegant single malt with unusual flavors rarely seen in whiskey. It has butterscotch, graham crackers, and chili chocolate on the nose. The light, spicy palate has honey, lemon pepper, and even hints of lime. Perfect for summer.
2022 Single Cask #11: Balcones Distilling Texas Single Malt Aged in a Tequila Barrel
Proof: 129
Age: 5 years
Quantity produced: 126 bottles
Format: 750mL
Details: Cask strength; Non-chill filtered; no color added
---
Cask Details
Mashbill — 100% Golden Promise malted barley
Maturation Barrel Info — Used Tequila Barrel that previously held Balcones Rumble
Barrel Entry Proof: 124.6
Barrel Size — 200L
Finishing Barrel Info — N/A
Length of Secondary Maturation/Finishing — N/A
Age of Spirit — 5 years
---
ALSO FROM THIS DISTILLER:
Type: Single Cask
Pour: Neat, on the rocks, or in a cocktail
Glass: glencairn or rocks glass
AWARDS & SCORES
We submit a select number of our releases to an even more select group of whiskey competitions. And it's safe to say the judges have really liked what they've tasted. Here are some of the awards we've won.
Best of 2022
Breaking Bourbon
About Balcones Distilling
Founded in 2009, Balcones Distilling is a true pioneer. The distillery released the first-ever Texas whiskey, paving the way for hundreds of distilleries that have followed in their footsteps in the Lone Star State. Balcones has a long commitment to experimentation and innovation, creating whiskies that defy convention and unlock entirely new flavors. At the same time, the distillery uses local ingredients, especially grain, to help capture the terroir of Texas. Balcones has proven that Texas is a serious spirits region, and Texas whiskey is its own distinctive style. But the distillery doesn't rest on its laurels, and continues to innovate and push the boundaries of American whiskey year after year.
Want more barrel details? Interested in partnering with us? Get in touch.
Explore all our active whiskies
Blend Series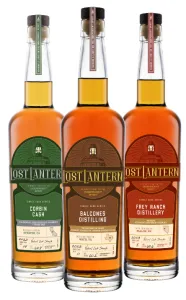 Single Cask Series
Single Distillery Series