Cedar Ridge Iowa Straight Bourbon 5 Years Old
Iowa's Destiny
We hand-selected this cask from the family-owned Cedar Ridge Distillery in Swisher, Iowa. It's only natural that Iowa makes great straight bourbon whiskey – after all, the state grows more corn than anywhere else in the country. The dramatic seasonal temperature swings of the Great Plains help create whiskies with a soft, clean, yet spicy character.
Our very first single cask bourbon came from Cedar Ridge, back in 2020. That one was a beautiful dram at only three years old. This, our second Cedar Ridge bourbon, was aged for a full five years, giving it even greater depth and complexity. Made from 74% corn, 14% rye, and 12% malted barley, this straight bourbon whiskey is truly in its prime. It has white flowers and vanilla on the nose, a complex palate with white chocolate and baking spice, and a very long finish.
This was a 'short cask' – a full-size 53-gallon barrel that experienced unusually high loss before bottling – so we only got 100 bottles from it!
2022 Single Cask #13: Cedar Ridge Iowa 5-Year-Old Straight Bourbon Whiskey
Proof: 123.1
Age: 5 years
Quantity produced: 100 bottles
Format: 750mL
Details: Cask strength; Non-chill filtered; no color added
---
Cask Details
Mashbill — 74% Iowa corn, 14% rye, 12% malted barley
Maturation Barrel Info — ISC new American oak, char 3
Barrel Entry Proof: 120
Barrel Size — 53 gallon
Finishing Barrel Info — N/A
Length of Secondary Maturation/Finishing — N/A
---
ALSO FROM THIS DISTILLER:
Type: Single Cask
Pour: Neat or on the rocks
Glass: glencairn or rocks glass
About Cedar Ridge Distillery
Many of the distilleries we work with have a strong local following. But none of them can match Cedar Ridge, a truly beloved family-owned Iowa distillery that has achieved a once-unimaginable feat. Cedar Ridge's flagship Iowa bourbon is the top-selling bourbon in Iowa, outselling even big name, mass-market bourbons. Cedar Ridge's bourbon and its other whiskies have their own distinctive character (notably a soft, creamy texture), born from the dramatic seasonal temperature swings of the Great Plains.
Want more barrel details? Interested in partnering with us? Get in touch.
Explore all our active whiskies
Blend Series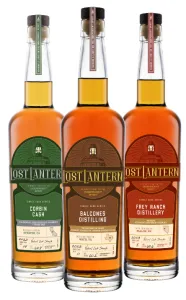 Single Cask Series
Single Distillery Series