Ironroot Republic Texas Straight Bourbon Single Cask
A Legend Returns
For our Summer of Bourbon products, we have created a Virtual Roadtrip with a stop for each distillery! Check out this product's stop here.
Lost Lantern hand-selected this cask from Ironroot Republic Distilling on the North Texas plains, an hour north of Dallas and just a few miles south of the Oklahoma border. The family-owned distillery's use of European distillation techniques and its experiments with rare heirloom strains of corn push the boundaries of what straight bourbon can be. Beyond that, the Likarish family have quickly established themselves as one of the most important (and most welcoming and generous) voices in Texas whiskey.
Aged for 3 years in a 65-gallon barrel, this was made from 65% yellow dent corn, 30% bloody butcher red corn, and 5% floriani corn, a rare italian heirloom red flint corn. It has warm oak spice and hints of pomegranate and cherry on the nose, with notes of marzipan, rich oak, sweet vanilla cream, and fresh cornbread on the palate.
This is our third cask, and second bourbon, from Ironroot Republic, which has consistently been one of our most requested and sought-after partners.
2023 Single Cask #7: Ironroot Republic Texas Straight Bourbon Whiskey
Proof: 137.3
Age: 3 years
Quantity produced: 167 bottles
Format: 750mL
Details: Cask strength; Non-chill filtered; no color added
---
Cask Details
Mashbill — 65% yellow dent corn, 30% Bloody Butcher corn, 5% Floriani corn, a rare italian heirloom red flint corn
Maturation Barrel Info — ISC New American Oak, Char 1, Heavy Toast
Barrel Entry Proof: 125
Barrel Size — 65 gallon
Finishing Barrel Info — N/A
Length of Secondary Maturation/Finishing — N/A
Type: Single Cask
Pour: Neat, on the rocks, or in a cocktail
Glass: glencairn or rocks glass
About Ironroot Republic Distilling
More than a century ago, the small Texas town of Denison saved the French wine industry. The tough roots of the area's indigenous grapes could survive the devastating phylloxera mite, and by grafting Old World vines onto those roots, French wine came back to life. The name Ironroot Republic honors the town's legacy. The Likarish family, which runs the distillery, pairs the unique regional climate and the extensive use of heirloom strains of corn with Old World distilling and aging traditions. Their bourbons and corn whiskies showcase compelling, elegant flavors rarely seen in American whiskey, and Ironroot Republic has quickly become one of the country's most sought-after whiskies.
Want more barrel details? Interested in partnering with us? Get in touch.
Explore all our active whiskies
Blend Series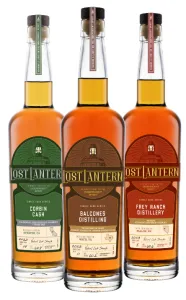 Single Cask Series
Single Distillery Series