Still Austin Texas Straight Bourbon Single Cask
The Heart of Texas, The Art of Texas
For our Summer of Bourbon products, we have created a Virtual Roadtrip with a stop for each distillery! Check out this product's stop here.
Lost Lantern hand-selected this cask from Still Austin in Austin, Texas. Proudly Texan and loudly Austin through-and-through, Still Austin is committed to making grain-to-glass whiskies that reflect the Texas climate and celebrate the culture of its vibrant capital.
Aged for 4 years in a 53-gallon barrel, this was made from 70% corn, 25% rye, and 5% malted barley, all grown in Texas. It has notes of vanilla, dried orange, clove, and chocolate brownie on the nose. The sweet and spicy palate balances oak and baking spice flavors with notes of walnut cake and candied orange. A bold and vibrant Texas straight bourbon whiskey, and a great way of exploring how one of our favorite styles of bourbon–high-rye bourbons–changes when made with local grains in a hot climate..
This is Lost Lantern's first release from Still Austin, making them the third Texas distillery we've partnered with.
2023 Single Cask #8: Still Austin Texas Straight Bourbon Whiskey
Proof: 103.8
Age: 4 years
Quantity produced: 167 bottles
Format: 750mL
Details: Cask strength; Non-chill filtered; no color added
---
Cask Details
Mashbill — 70% white corn, 25% Brasetto rye, 5% malted Wild Fire barley
Maturation Barrel Info — ISC New American Oak, Char 3
Barrel Entry Proof: 118
Barrel Size — 53 gallons
Finishing Barrel Info — N/A
Length of Secondary Maturation/Finishing — N/A
Type: Single Cask
Pour: Neat or in a cocktail
Glass: glencairn or rocks glass
About Still Austin Whiskey Co.
A rapidly rising star from the Lone Star State, Still Austin makes grain-to-glass whiskies that reflect the Texas climate and celebrate the culture of its vibrant capital. It's rare to find an urban distillery on the scale of Still Austin, especially in a city the size of Austin. But Still Austin is a rather sizable distillery, complete with a beautiful tasting room and lots of outdoor space–fitting for Texas. The distillery works exclusively with Texas-grown grains, but it has perhaps become most familiar for its support of artists and musicians. This support is reflected in every one of Still Austin's labels, and even in the name of two of its flagship products: The Artist and The Musician.
Want more barrel details? Interested in partnering with us? Get in touch.
Explore all our active whiskies
Blend Series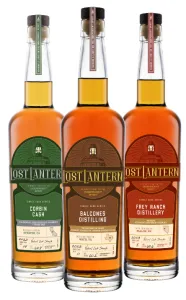 Single Cask Series
Single Distillery Series