Tom's Foolery Ohio 9 Year Old Straight Bourbon Single Cask
Bourbon From The Snowbelt
For our Summer Bourbon products, we have created a Virtual Roadtrip with a stop for each distillery! Check out this product's stop here.
Lost Lantern hand-selected this cask from Tom's Foolery in Chagrin Falls, Ohio. The family-owned distillery uses traditional, labor-intensive methods, including pot still distillation, to make whiskey the way it used to be made. their whiskies embody the cold, snowy climate of Ohio's snowbelt.
Aged for NINE years in a 53-gallon barrel (please note: the label says 8 years old, but this whiskey actually had its ninth birthday just a few days before bottling!), this bourbon has notes of peaches and cream and a fresh nuttiness on the nose. The palate has hints of fresh-baked bread, warm, fresh grain, vanilla, and deep oak. It has an extremely long, rich, and spicy finish, fitting for the oldest straight bourbon whiskey we've ever released.
This is Lost Lantern's first release from Tom's Foolery, making them the second Ohio distillery we've partnered with.
2023 Single Cask #9: Tom's Foolery Ohio Straight Bourbon Whiskey
Proof: 113.8
Age: 9 years
Quantity produced: 171 bottles
Format: 750mL
Details: Cask strength; Non-chill filtered; no color added
---
Cask Details
Mashbill — 52% yellow dent corn, 20% winter rye, 28% 6-row malted barley
Maturation Barrel Info —  ISC New American Oak, Cooper's Select, Char 4
Barrel Entry Proof: 108.7
Barrel Size — 53 gallons
Finishing Barrel Info — N/A
Length of Secondary Maturation/Finishing — N/A
Type: Single Cask
Pour: Neat, on the rocks, or in a cocktail
Glass: glencairn or rocks glass
Located in Northeast Ohio, Tom's Foolery is a family-owned distillery that makes whiskey using traditional, labor-intensive methods, including pot still distillation. The small distillery has nearly as much in common with the small farm distilleries scattered across Cognac and Normandy as it does with America's bourbon tradition. The distillery even makes brandy! The entire process at Tom's Foolery is deliberately hands-on and low-tech, every aspect of the process guided by experience and sensory evaluation rather than computers and spreadsheets. Their process is also connected to nature, and the distillery makes every effort to allow the regional climate–not far from the shores of Lake Erie, in an area with cold, snowy winters and temperate summers–to influence the whiskey as nature chooses.
Want more barrel details? Interested in partnering with us? Get in touch.
Explore all our active whiskies
Blend Series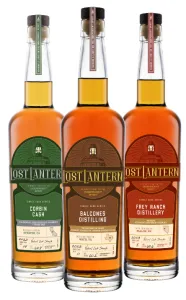 Single Cask Series
Single Distillery Series